Meet the Alrefai Family: Five years later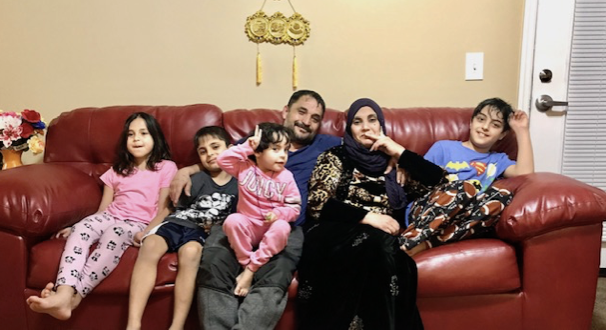 Written by: Sarah Hima, WN Summer 2022 Intern
Webster University; Human Rights major
As the Syrian war began in 2011, it gave way to the largest refugee crisis in the world. Millions of innocent people were forced to flee from the violence that ravaged the country in the years that followed. One of the families who was displaced was the Alrefai family, who lived in the Southwestern city of Daraa, Syria. As the war began inching closer to their town, Rakan and Khawla Alrefai had to make the hard decision to leave the country, their family, and all that they had known behind to seek safety and give their children, Badir, Haneen, and Laith, a better future.
Before the war began in Syria, the Alrefai family had lived a normal life. Khawla and her husband Rakan had met each other in their town, had gotten married and went on to have 3 children. Rakan worked as a taxi driver, while Khawla was a homemaker. The Alrefai family had spent their time with their extended family, working on a farm, and enjoying the simplicity of life. But as the violence erupted after the Arab Spring, their lives changed. 
Daraa is a Southern city that borders the country of Jordan, and the family, in order to flee the war, had to walk from their home and across the Jordanian border, where they found themselves living in a refugee camp. While they were in Jordan their lives changed from what they had known in Syria. Rakan and Khawla had to leave their families in Syria, but Khawla did have sisters who lived in Jordan, who they often visited.  The kids, who were at their young developmental age at the time, were not able to attend school which was a struggle for both the children and their parents. Rakan and Khawla both want their children to succeed and prosper in life and having access to education is one of the ways the children are able to receive it. 
While in Jordan, Khawla gave birth to their fourth child, Hala. Hala was born premature, and her parents worried for her health, as she was underweight for her age. The doctors tried their best to provide the medical care, but it was not until they arrived in St. Louis did Hala's health improve drastically. 
After spending some time in Jordan, the Alrefai family found themselves on a plane headed towards St. Louis, Missouri. They had been able to come to the United States with the help of the United Nations, and were placed in St. Louis, where they have been residing for the past 5 years. This is not the end to their story, as they had spent the last half-decade moving around, all while adjusting to their new lives in a new country while navigating through personal hardships.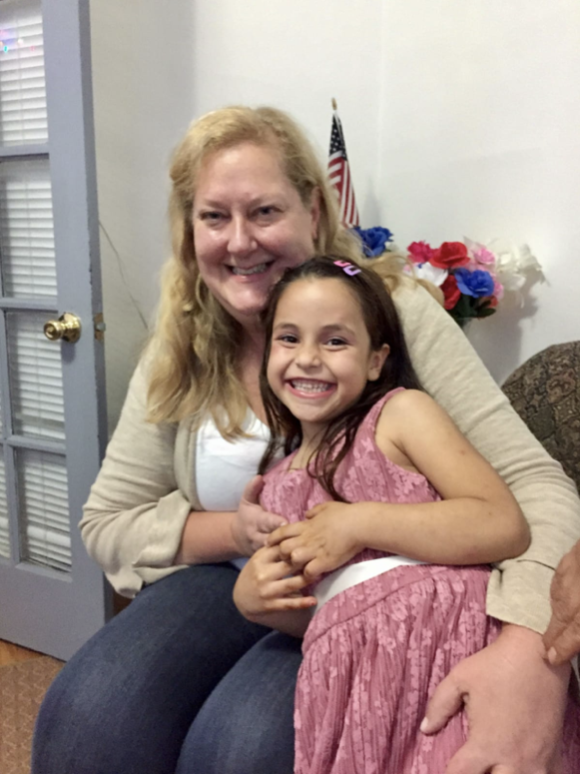 When the Alrefai's moved to St. Louis, they had not known the culture, language or anyone who might be able to help them. Through the International Institute, they were able to get housing on Michigan Ave.  in St. Louis, where they lived for their three months. The apartment was on the second floor, and it was difficult for Rakan to go up and down the steps, as he has leg and back injuries. After a short while, the family also discovered that their home was infested with bedbugs, and they knew that they had to move out. During their time on Michigan Ave., Madeleine and Jane, from Welcome Neighbor, met the Alrefai family for the first time. 
The family then moved to their second house on Chippewa.  The rent was high and after a year they relocated to their third house on Gertrude Avenue. During this time, Khawla began working at a daycare, which was half a block from their apartment. Since Rakan was unable to work due to a permanent disability they applied for Section 8 housing and qualified.  They were required to move to Jefferson County for a year, before they could use their Section 8 voucher in St Louis County so they moved to Pevely, MO during the pandemic and attended school virtually.  Finally, after 4 years and 4 residences,  they were able to move to their current home in Saint Ann, where they plan to live for the unforeseeable future. 
The Alrefai family was also able to make connections and friendships with the people in St. Louis. Some of their closest friends came from Welcome Neighbor. Besides Madeleine and Jane, they also connected with Becky O'Keefe and the Roesler family who they developed  lifelong friendships with.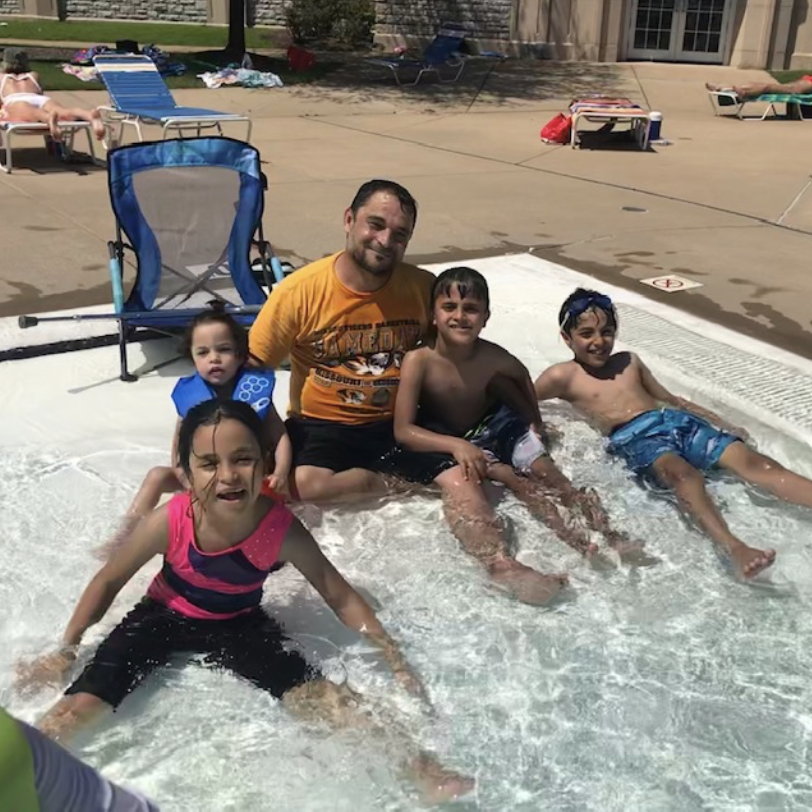 Their Welcome Neighbor friends especially helped Rakan, who suffers from back and leg injuries that he obtained from a serious fall in Jordan. There were multiple trips to doctor appointments and the hospital for surgeries.  Rakan had not had the same type of opportunities to seek medical aid from the Jordanian doctors as he does in St. Louis.  
Their friends also helped them with many things needed to get settled into their new lives in America. They held a neighborhood garage sale to purchase a mini van for the family.  This helped the family greatly, as they are able to take the kids to school, go grocery shopping, and live more independently. 
Madeleine and the Welcome Neighbor volunteers also developed a connection with the kids, as they often took them on fun outings in the St. Louis area. Hala, Laith and Haneen all agreed that their favorite thing to do with Madeleine is go swimming, especially when it gets hot outside.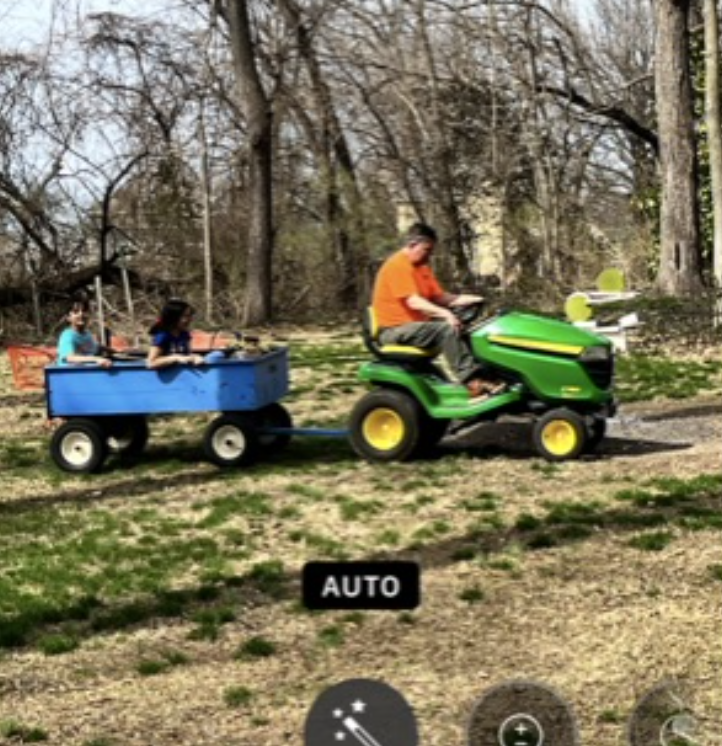 The kids also enjoy going to Becky's, as she has a large field  behind her house. They love running in the fields and riding in her husband's tractor when they get the chance.  Laith explains that spending time outside reminds him of the fun he used to have in Jordan with his friends where they were able to walk around town, buy snacks from different shops and play until nightfall.  
Since the family has moved 5 times since they arrived in St Louis, the children found it hard to adjust to the school's they were attending. Haneen and Laith explained that it is hard to make and keep friends when they are constantly moving. They also asserted that some of the hardship that they faced at the beginning might have been from the language barrier. When the family first immigrated to the U.S., they had only spoken Arabic, and while they can speak English today, the process of learning was tough. The children were put into special English classes to learn the language and were immersed in the public school system to grasp the language from their classmates. 
The Alrefai kids are excited for the upcoming school year at Pattonville.  It will be the first time they are returning to the same school.  They are hoping they will live in their current home for a while, so that they can adjust to the new school and make lifelong friends. Hala is especially excited for her first year of school, as she will be attending Kindergarten, though she admits she will miss her parents. Her dad also admits that he will miss his youngest daughter while she is away for the day. 

While the kids are still young to make a definite decision on their future, it does not stop them from dreaming big. Badir dreams of becoming a doctor, since he is passionate about science. Haneen, and even Hala, a young 5-year-old, dream of being elementary school teachers, because they both like kids and wants to spend their time teaching them.  Laith, however, does not want to spend his time thinking about the future, instead he wants to live in the moment and enjoy life as it is now.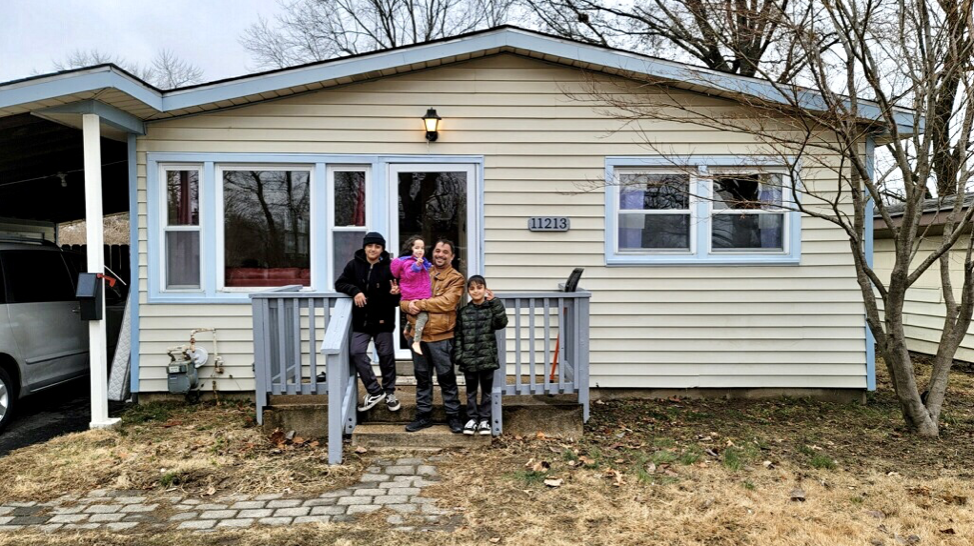 When asked for their hopes for the future, both Rakan and Khawla asserted that they just wanted their kids to be successful. For them, the first way towards success is through education, and it is important for them to see their kids go through school and lead a successful and fulfilling life. When asked for the hopes for themselves, they remained humble, Khawla praying for her husband's good health. They are both grateful for the opportunities that they have had in America, and they are also thankful to Welcome Neighbor for helping their family.