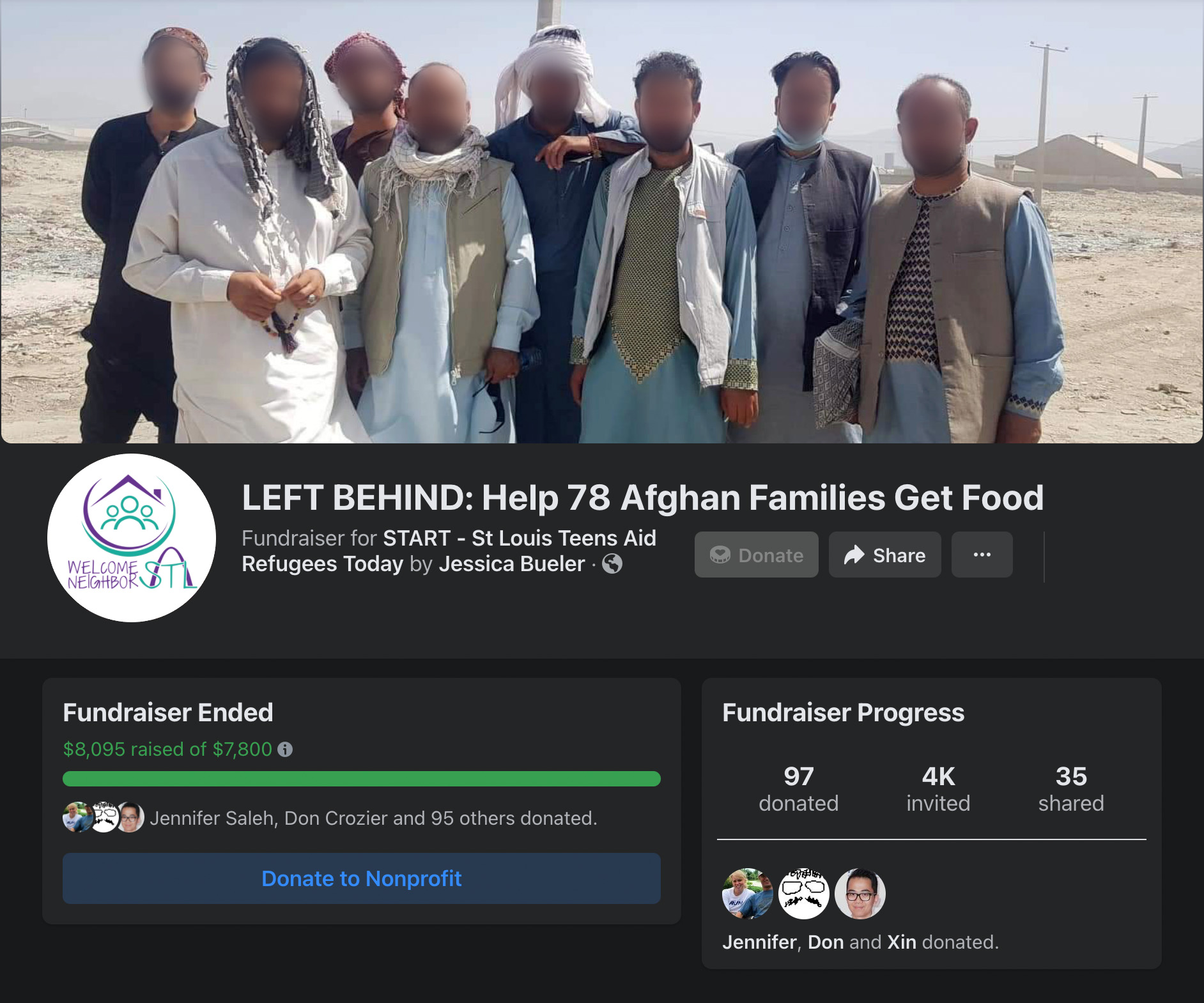 LEFT BEHIND: Help 78 Afghan Families Get Food
Welcome Neighbor STL / START is working with Haseeb Ahmadi who has helped to co-sponsor 114 Afghans who worked for USG with a company called Network Innovations.
Network Innovations withdrew from Afghanistan and has now left behind 78 families in Kabul, all who worked with the Canadian and U.S. governments were all PROMISED SIV visas to leave the country once the U.S. withdrew.
Those promises have been broken in that all 78 of these families have the proper passports, paperwork, and Visas, but have been left behind to be slaughtered by the Taliban.
We are desperately trying to help these families in 2 ways: 1) To survive in Afghanistan while they are in hiding 2) To make sure these men and women, who dedicated YEARS of their lives working next to American soldiers, are offered asylum in the U.S.
Eight of the families have made it to the U.S. and two of the families are in St. Louis now and are working around the clock to try to help others escape the Taliban.
What we are doing and why we are doing it: We are raising $100 for 78 Afghan families who are in hiding to give them food for the next month. Yes, that is correct – only $100 per family for a month of food so they can survive.
This is just the start of what we can do to try to help these families. Please watch this most recent KSDK News Interview with Haseeb to learn more about the situation.
https://www.ksdk.com/amp/article/news/local/st-louis-marine-afghan-refugee-save-afghans-worked-alongside-us-troops/63-056a282f-eb7f-45ce-bad5-f29a227aea11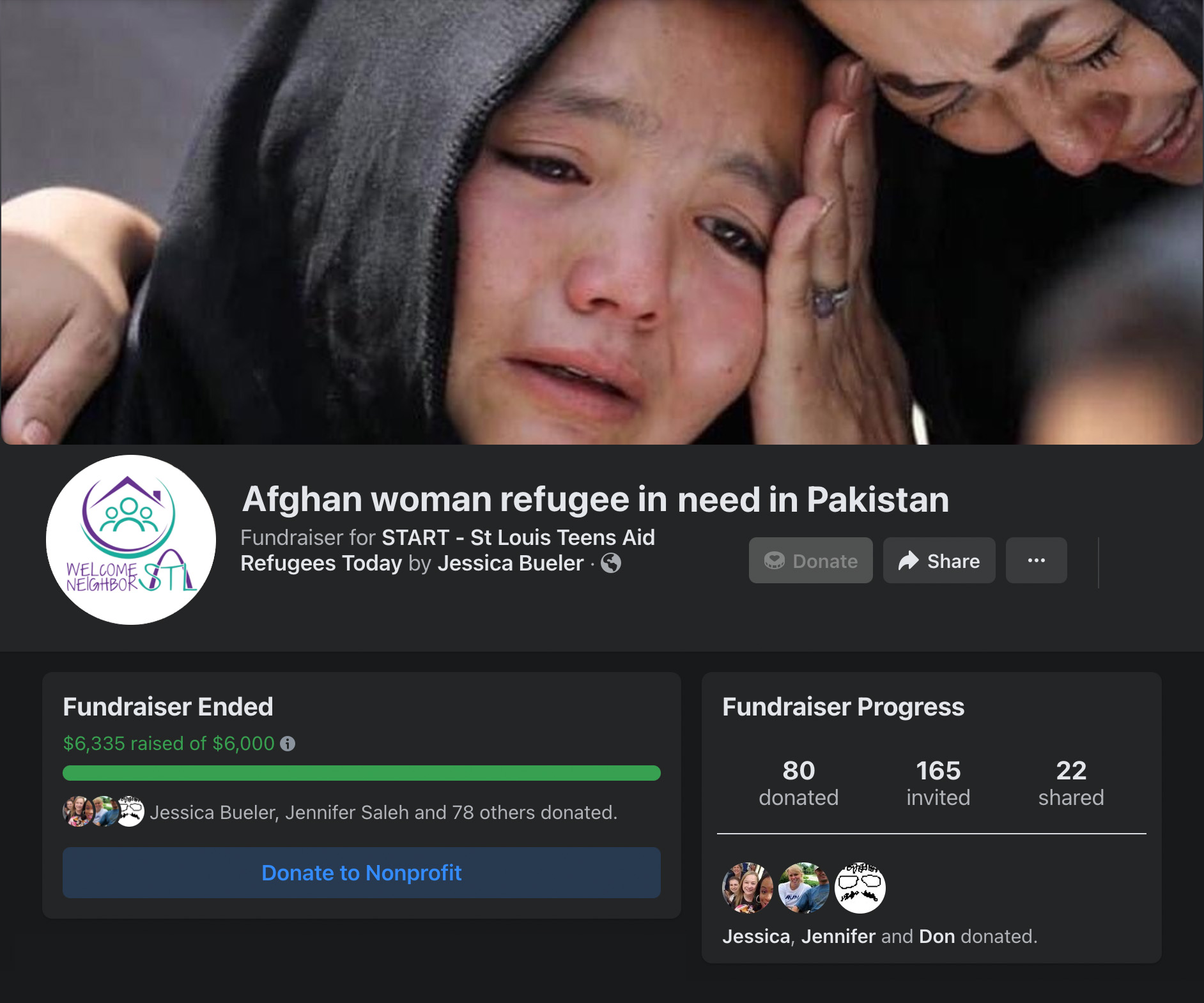 Afghan woman refugee in-need in Pakistan
"I told Jessica & Susan that I will write my story with my own words but it's haunting me now.
You can't see me crying while I am writing this help letter to all the world right now.
We haven't slept enough since the Taliban came back to Afghanistan, and I know many other Afghans haven't as well. Because we all have families and friends there.
I had my sister in Afghanistan with her three kids. She made it safely to Pakistan, thanks to all of you at Welcome Neighbor STL. She went through so much during this short period of time, and her mental health is not even close to good. Now, my sister and many more Afghans have suddenly become refugees and they have no where to safe to go.
They will hear from landlord such as "pay more or get out." Or, from the people that "you don't belong here." How do I know this? Because I heard these same things from my landlord in Russia, and from people in Russia. We were told to go back from where we came from, we were beaten, and we were rejected to go to schools and work.
As of this moment, my sister right now in Pakistan facing the same situation. She has been rejected for renters because she is a single mom with three kids. She was rejected because has no man in their family. She was rejected because she is an Afghan refugee. She was rejected because she doesn't have any income. The landlords who are willing to rent her ask for high rents or pay upfront for the entire YEAR ahead. She is crying on the phone telling her story everyday, and we are crying for being helpless.
My sister wouldn't be in Pakistan if Welcome Neighbor STL all didn't help to fundraising for her tickets and visas. We are all so grateful and thankful for everyone's generosity so far. She has been staying in a motel since then and trying to find a place to rent but being rejected for all various reasons.
Today, we three Shah sisters are here to ask for your help for our older sister in Pakistan. She is in need of one year ahead rent which is $6k. Please help us to raise her this amount so she doesn't end up on streets of Pakistan. Thank you again for being an amazing example of humanity. God bless you all."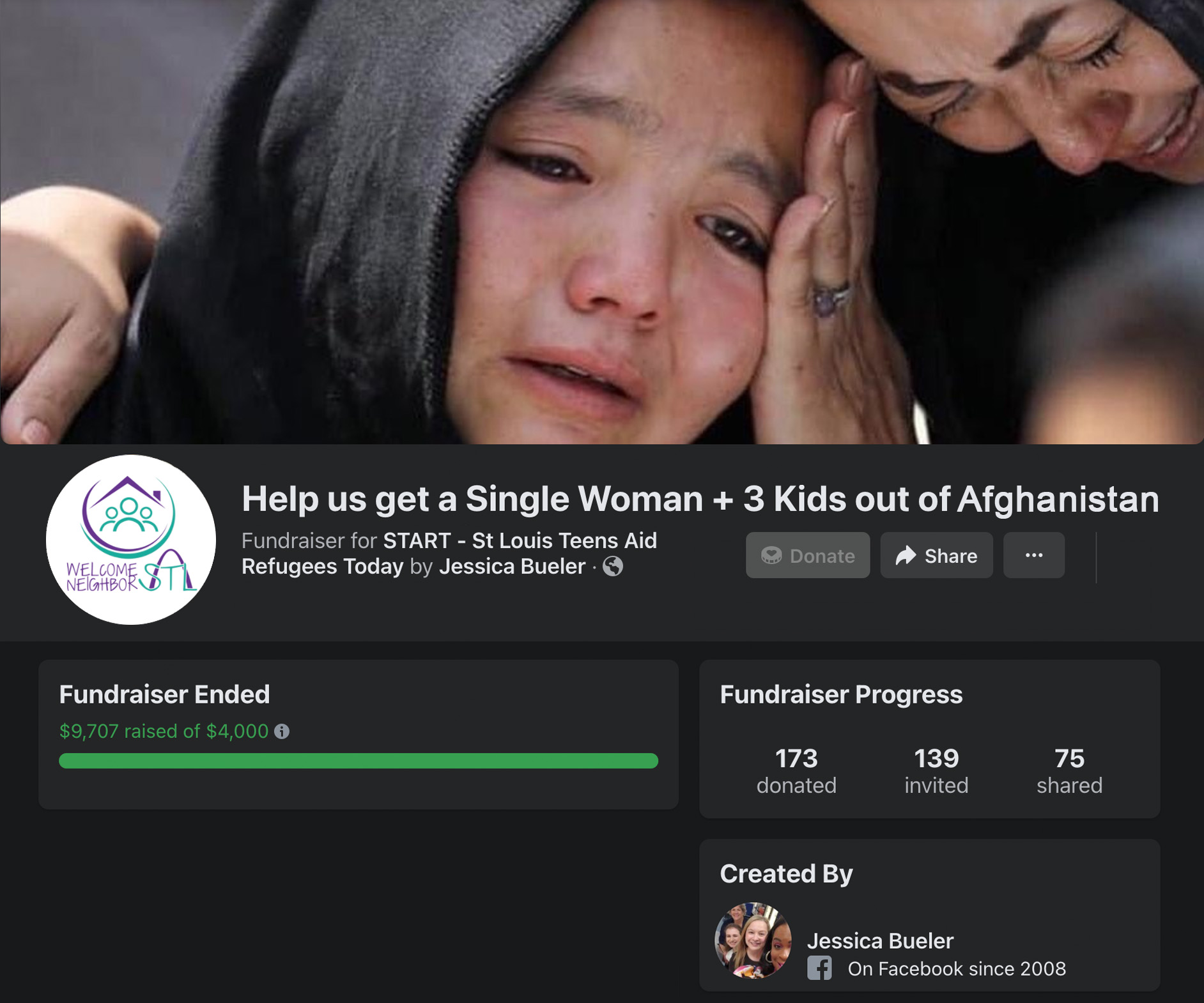 Help us get a Single Woman + 3 Kids out of Kabul – NOW!!!
Have you ever been to a Welcome Neighbor STL supper club event? One of our cooks needs our help NOW!
As you know, that the Taliban is back to Afghanistan and they have taken over the country.
One of our dear friends, Andi Shah is a cook in our culinary program. Her elder sister is currently trapped in Kabul and is trapped in her apartment with her 3 children.
She cannot go outside because the Taliban are looking for all working women, especially those who speak English. The husband died of cancer last year and women are not safe to travel alone anywhere in the country.
The company that she was working is also closed for good because of Taliban so she now has no source of income.
We have a way for our dear friend Andy's sister and 3 kids to immigrate immediately to Pakistan the visa and tickets costs her and her three kids about $7,000.
We are afraid to death because she is alone with her and no one is there to help them.
The family has been able to come up with $3,000 total, putting every penny together. We are needing to raise $4,000 more to get Andy's sister and children out of Afghanistan.
Can you help us get this family safely out of Afghanistan?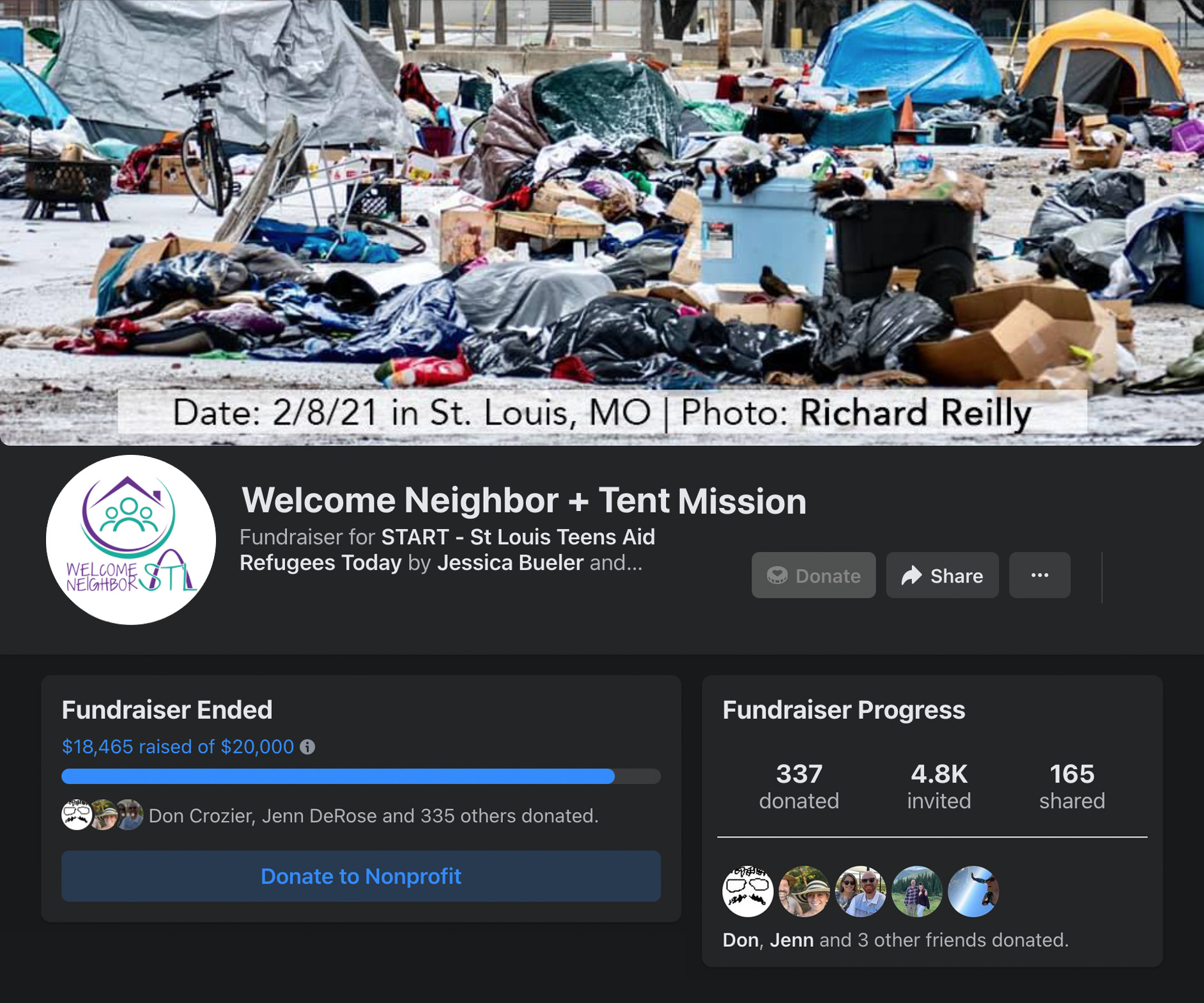 Welcome Neighbor + Tent Mission
$18,465 raised of $20,000
Welcome Neighbor STL started 5 years ago from a single toiletry drive in the University City Loop. As we grow, we are continuing our mission to expand to help others in need.
Even in the face of a global pandemic, the volunteers from Welcome Neighbor, START, and Tent Mission have teamed together to hit the street for the most vulnerable people in need.
Right now, outside, we have hundreds of unhoused individuals who are huddled together to try to survive the freezing temperatures in the snow in St. Louis. The unfortunate reality is there are not enough shelters, beds, or resources for the people who need help.
Does that mean that our unhoused brothers and sisters don't deserve our love, our help, a warm place to sleep, food to eat, etc?
This is why Welcome Neighbor STL is partnering with Tent Mission STL to expand our services to help not only refugees, but the homeless population in St. Louis as well.
Join us in doing what is right to help people in need. After all, you don't need an invitation to do the right thing! – Jessica Bueler, Executive Director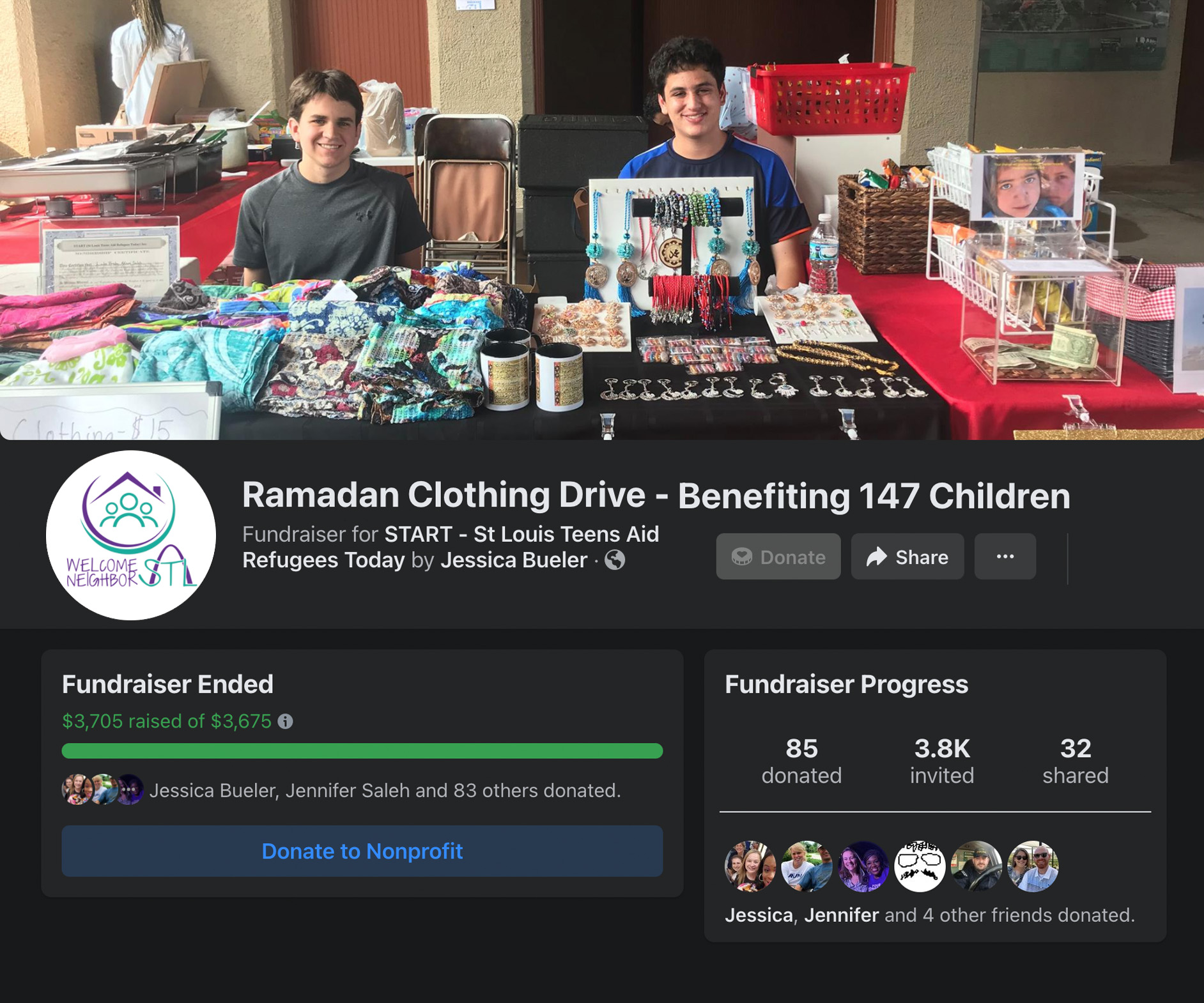 Ramadan Clothing Drive – Benefiting 147 Children
WANT TO GET INVOLVED AND MAKE A SIGNIFICANT IMPACT?
Welcome Neighbor STL and START are coordinating a clothing drive to provide some brand new, beautiful clothes for 147 children during Ramadan.
For Muslims, Ramadan is a holy month of fasting, prayer, reflection and community. The celebration of Ramadan takes place this year from April 13 – May 12.
When Ramadan ends, it is with Eid ul Fitr, the breaking of the fast. This is a time of celebration.
Welcome Neighbor STL and START are coordinating a clothing drive to provide some brand new clothes for 47 different families for Eid ul Fitr.
You can make a difference by donating $5 or $500. Every little bit helps. Thank you for your support.
100% of the funds we receive go to aiding local families living in St Louis.