sun10apr11:00 am8:00 pmEvent OverFeaturedAfghan Menu Pre-Order (Sunday, April 10th) - ThurtenE CarnivalAfghan Meal Ticket PRE-ORDER - Sunday, April 1011:00 am - 8:00 pm ThurtenE Carnival 2022, Olympian Way - Washington University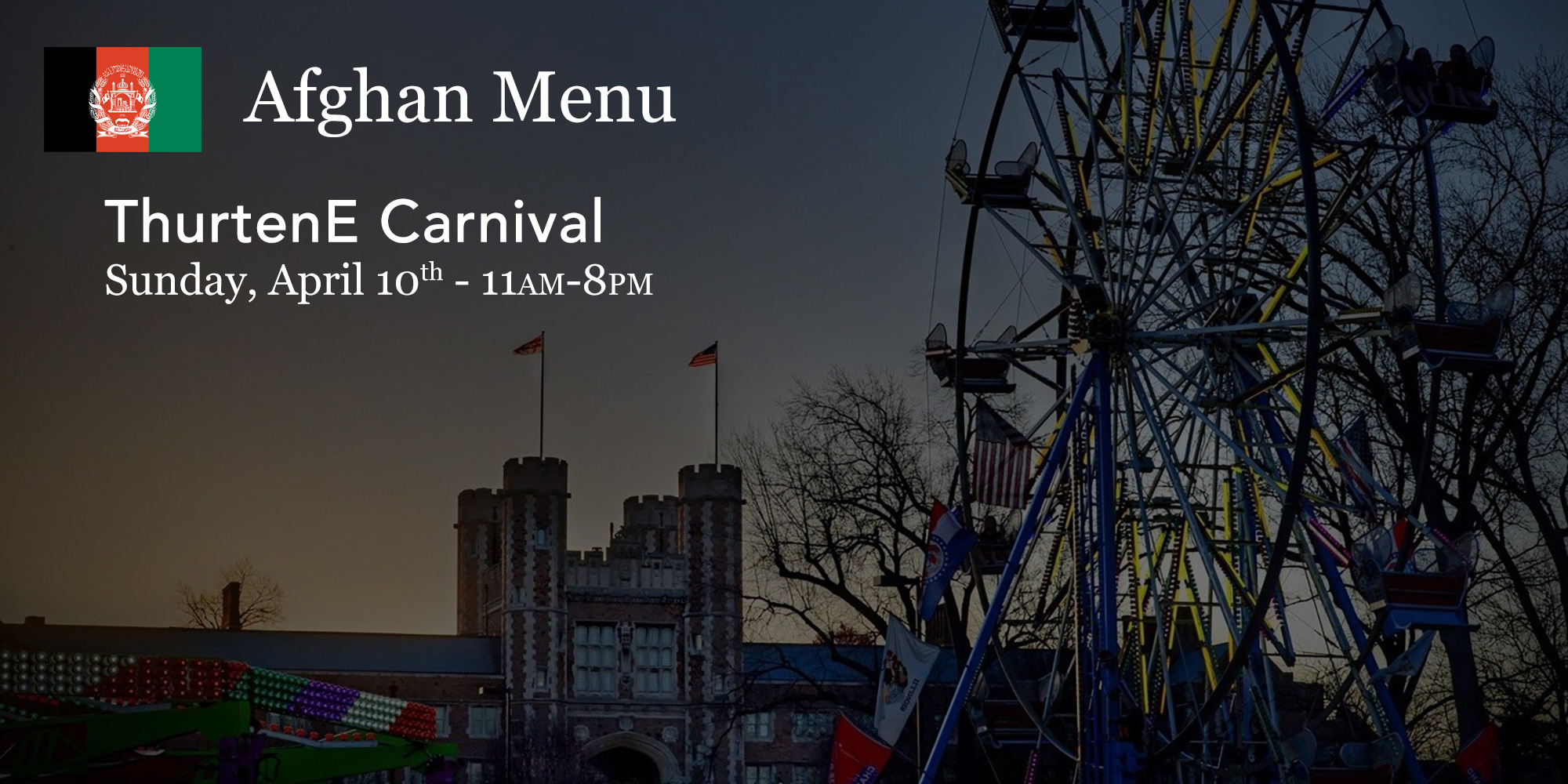 Time

(Sunday) 11:00 am - 8:00 pm
Event Details

We are excited to announce Welcome Neighbor STL has been selected as the community partner in hosting this year's ThurtenE Carnival at Washington University in St. Louis.

Did you know #thurtene is the oldest and largest student-run carnival in the United States and was started in 1904? It includes amusement rides, student-constructed game and food booths, and attracts up to 50,000 people annually.

This year, be on the lookout for food, music, and dance from Afghanistan, Morocco, Syria, Iraq, India, Egypt, Palestine, Kurdish culture, and more!
Friday, April 8: 4pm – 8pm

Saturday, April 9: 11am – 8pm

Sunday, April 10: 11am – 8pm
PRE-ORDER YOUR TICKET
90% of ALL proceeds go directly to our refugees
Afghan Menu for Sunday, April 10th | 11am-8pm
$14 per plate
TWO (2) Mantu (Afghan dumplings)
Similar to a wonton dumpling and filled with lentils, ground beef, tomatoes, onion, coriander, and cumin. Drizzled with yogurt and tomato sauce.
Kabuli Pulao
Basmati rice cooked with onion, saffron, black pepper, cardamom, coriander, and cumin. Topped with raisins, nuts and julienned carrots
Gosh e fil
(a fried sweet pastry with dough made from flour, milk, eggs, and sugar. These crunchy pastries are also sprinkled with powdered cardamom, icing sugar, and crushed pistachios.
INTERACTIVE EVENT MAP
Click on the interactive event map to identify locations inside the ThurtenE Carnival Event Grounds.
***More locations will be populated soon
Sign Up For This Event
One(1) Afghan Meal Ticket - April 10, 2022 | 11am-8pm

Ticket valid only during the date/time specified. Purchase email must be presented during redemption.
Tickets are not available for sale any more for this event!