After Living in India, Kuwait, and Iraq, Badur Mohmaed Calls St. Louis Home
Badur Mohmaed arrived in St. Louis on a snowy winter day. She wore a thin jacket that she pulled tightly around her body, hoping it would provide more warmth against the harsh winter winds that greeted her once she exited the airport. Still she paused to marvel at the snow that blanketed the ground before her. "It was the first time I saw snow. We didn't have snow in Kuwait," she says.
Like many refugees the path that led Badur and her family to St. Louis, Missouri–a place she had never heard of until the day she boarded a flight with Ibrahim, her six-year-old son and husband, Ali–is full of hardships and resiliency.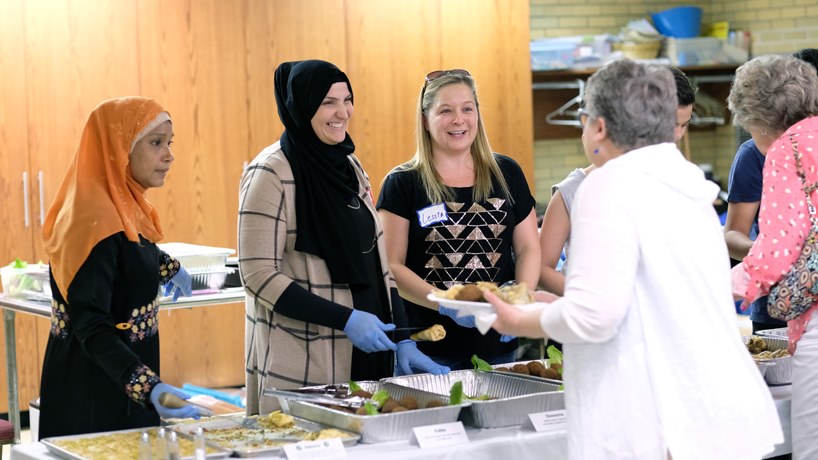 Badur was born in Madras, India. Her mother died when she was a young girl, and she moved to Kuwait with her family. Years later, she met her husband, an Iraqi citizen, who worked as an electrical engineer in the country.  They lived and worked in Kuwait for many years and even gave birth to their first son before the relationship between Kuwait and Iraq began to deteriorate in the early 1990s.
As the relationship between the two countries became more tense, the life that Badur and her family had previously lived in Kuwait was no longer possible. "Because my husband is an Iraqi, we had many problems in Kuwait because they don't like Iraqi people."  The family lost their green cards and could no longer access hospitals, schools, or employment.
Forced with no other option, they moved to Baghdad where Ali's family is from. But life in Baghdad was dangerous. Women could not go out alone. There were curfews. Neighbors were killed in the middle of the night. "It was so hard because I saw it with my own eyes–there was so much danger."
The family feared for their lives and so they fled the country at midnight one night. They traveled through Syria, Lebanon, and circled down through Saudi Arabia to get back to Kuwait. "Going direct is so easy, but you can't do it because the border is closed," says Badur.
They didn't know how they'd be received back in Kuwait–they just knew they had to leave Iraq. Shortly after they arrived, the family began the process to become a refugee. Badur, who was now pregnant with her second son, Saeed, didn't know if they'd be placed in Sweden, Canada, or the United States until she received a call on the day of their departure. "I had my papers to go to Sweden, and then they said no, you will go to America. It was a surprise," she says.
Once they arrived in the United States, a case worker met the family at the St. Louis Lambert International Airport and took them to an apartment where they still live. "My house was empty," Badur recalls of that first night in St. Louis. "They had [given us] good food, but I didn't have any pots to cook."
Eight years later, the same apartment now teems with life. Badur and I talk in her living room where a daytime talk show fills our pauses. Her husband comes in and out of the apartment, and her youngest son sleeps behind her on the oversized royal blue sectional that is too large for the space. Above the tv, a framed Arabic prayer sits next to an angel holding two American flags.
Badur hopes to move out of the city to Affton for better schools, but the move is not yet financially feasible. To work as an engineer in St. Louis, her husband would have had to go back to school for three years, which wasn't an option, so he found work in a factory.
Welcome Neighbor STL has been instrumental in helping women like Badur find ways to make an income to help support their family while still being able to take care of their children at home. Badur was cooking regularly for the Welcome Neighbor STL Supper Club, but when the pandemic canceled all upcoming dinners, she once again had to adapt.
She taught herself macrame from YouTube videos, and now she and two of her friends sell their crafts to earn money. "I work with Jessica [of Welcome Neighbor STL] to cook and sell things at Tower Grove Farmer's Market with Syrian friends," says Badur.
No matter the obstacle, Badur seems to overcome it with determination and a sense of optimism.
"I come to America and drive a car for the first time. I go shopping. I can do a small business with my friends," she says with a smile. "I can do anything I want to do."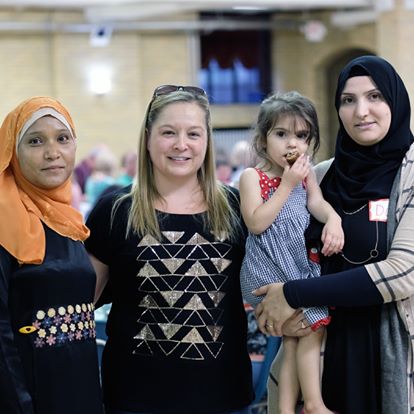 ————————————————————————————–
About Jen Roberts
Jen Roberts is a St. Louis-based writer who writes on a variety of topics including immigrants and refugees, local and global social issues, travel, and arts and culture. When she is not writing, you can find her relaxing at a cafe, logging miles in Forest Park, or planning her next trip. You can find her work at jen-roberts.com or follow her travels on Instagram at @jen_roberts22.