For Béatrice Bouda, Sharing Meals With Others Reminds Her of Home in Burkina Faso
For Béatrice Bouda and her husband, Jean, the move from Ouagadougou, Burkina Faso to St. Louis, Missouri was without difficulties. They secured visas, a sponsor, and found an instant community in St. Louis through their church, New City Fellowship, which offered to host them for six months as they adjusted to life in the United States. "God provided everything for us since the beginning," she says.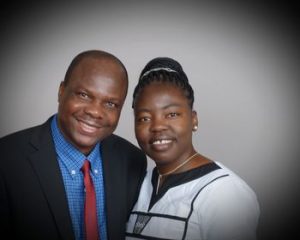 Béatrice and Jean spent three weeks at their church when Ed and Linda Trevathan, a couple from their parish, invited them to come live with their family in the Central West End. The Boudas planned to spend six months there, but Ed and Linda insisted they stay longer. "They said we're like family and didn't want us to leave" says Béatrice. The Boudas ended up staying with the family for two and a half years, though they insisted on paying rent after the initial six months since they both now had jobs. They then spent two years in South County before eventually settling in North County near their church.
It's been almost nine years since the Boudas first arrived in St. Louis, but Béatrice can still recall those first winters. "In my country there is never snow, and we came here in December," she says. "In the beginning, it was hard. We didn't have a car to drive, and sometimes we would have to wait for the bus for 40 minutes in the cold. I remember one time crying, asking why I moved here."
Food also took some getting used to. "In Africa, you see food from Europe and the United States, and you're so happy to try it because it's different. You will eat it occasionally, but here you have to deal with it every day," says Béatrice. Pizza used to be a once-in-a-year treat but now "Every evening we eat pizza," she laughs.
When Béatrice discovered African ingredients at Worldwide International Foods & African Market on Olive Boulevard, "It was a happy day," she says.
Though Béatrice has adjusted to life in St. Louis, she still misses the community in Burkina Faso. "People help each other. If my neighbor doesn't have something to eat, I will share my food with them," she says.
In Burkina Faso, people practice Islam, Christianity, and indigenous beliefs, but everyone lives together. "There is no segregation," she says. "If a Christian has a wedding, people from all religions will join them. At Christmas time, a Christian will cook and invite their Muslim friends over."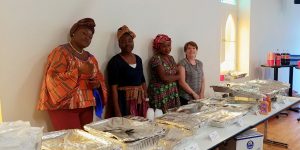 Welcome Neighbor STL Super Club dinners connect Béatrice back to her life in Burkina Faso through sharing food with others in the community. "It is really amazing that people are willing to try your food, and it's a food they don't even know," she says. "Sometimes the taste of the food is not what they are used to, but they always enjoy it."
"I'm so happy about the project and about being able to share my food with others," Béatrice says.
Béatrice is currently preparing the menu for her next Welcome Neighbor STL virtual supper club event that will take place on January 23 from 5 – 6 p.m. She will be cooking with Nicole Kiwewa  If you are interested in attending, you can buy your ticket here.
____________________________________________________________
About Jen Roberts
Jen Roberts is a St. Louis-based writer who writes on a variety of topics including immigrants and refugees, local and global social issues, and art. When she is not writing, you can find her relaxing at a cafe, logging miles in Forest Park, or planning her next trip. You can find her work at jen-roberts.com or follow her on Instagram at @jen_roberts22.