Did you know you can turn all your Amazon purchases into donations for Welcome Neighbor STL / START? With every purchase you make, Amazon Smile will donates .05% to Welcome Neighbor STL/START. Here is how to set it up on your existing Amazon account (it's super easy!)
Click "Shop Charity List" for START – St Louis Teens Aid Refugees Today.

Enter your existing Amazon account email address and click "Continue"

Amazon will send you a one time code to confirm your account and you're done!
Now every time you shop on Amazon Smile .05% will be donated to Welcome Neighbor STL / START. ❤️❤️❤️
We make lists to provide essential supplies to our families once they've been placed into housing. Most families have experienced trauma, high levels of stress and feelings of helplessness for many years. Thank you for putting your attention, energy, and dollars towards helping them!
Click the photos below to link directly to the Amazon Wishlist for each family. This page is frequently updated so check back often!
If you experience any issues with your Amazon wish list purchase, please email [email protected] and we will make sure your refugee family receives your generous donation.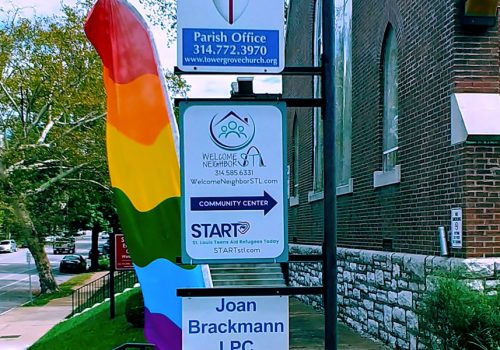 Our Refugee Assistance Amazon Wish List
Karenni refugees from Burma (Myanmar) who escaped extreme violence & persecution in their mountain village and fled to Thailand where they lived in a camp until they were resettled in St. Louis in 2011. After making a hard decision to move to Kentucky last July, they have now been reunited with extended family and a large Karenni community. They have struggled to learn how to live in a Westernized society without even being literate in their own language, but have made large strides in becoming independent. The father and son-in-law both work at a chicken factory and they are buying their first house together as one large family!
Family is a grandmother (age 78, became the first in their family to become a US Citizen due to mental/physical hardships), father and mother to five children (ages 9-19), eldest daughter (age 25) married with a 1.5-year-old daughter.
Wish Lists
Each wish list reflects the essential items required of a family in need! Your generosity will provide these refugee families with not only an item of need, but with a new sense of hope.