thu08mar6:00 pm9:00 pmWelcome Neighbor STL Supper Club hosted by Carol & Pat Schuchard6:00 pm - 9:00 pm CST Boo Cat Club, 812 Union Blvd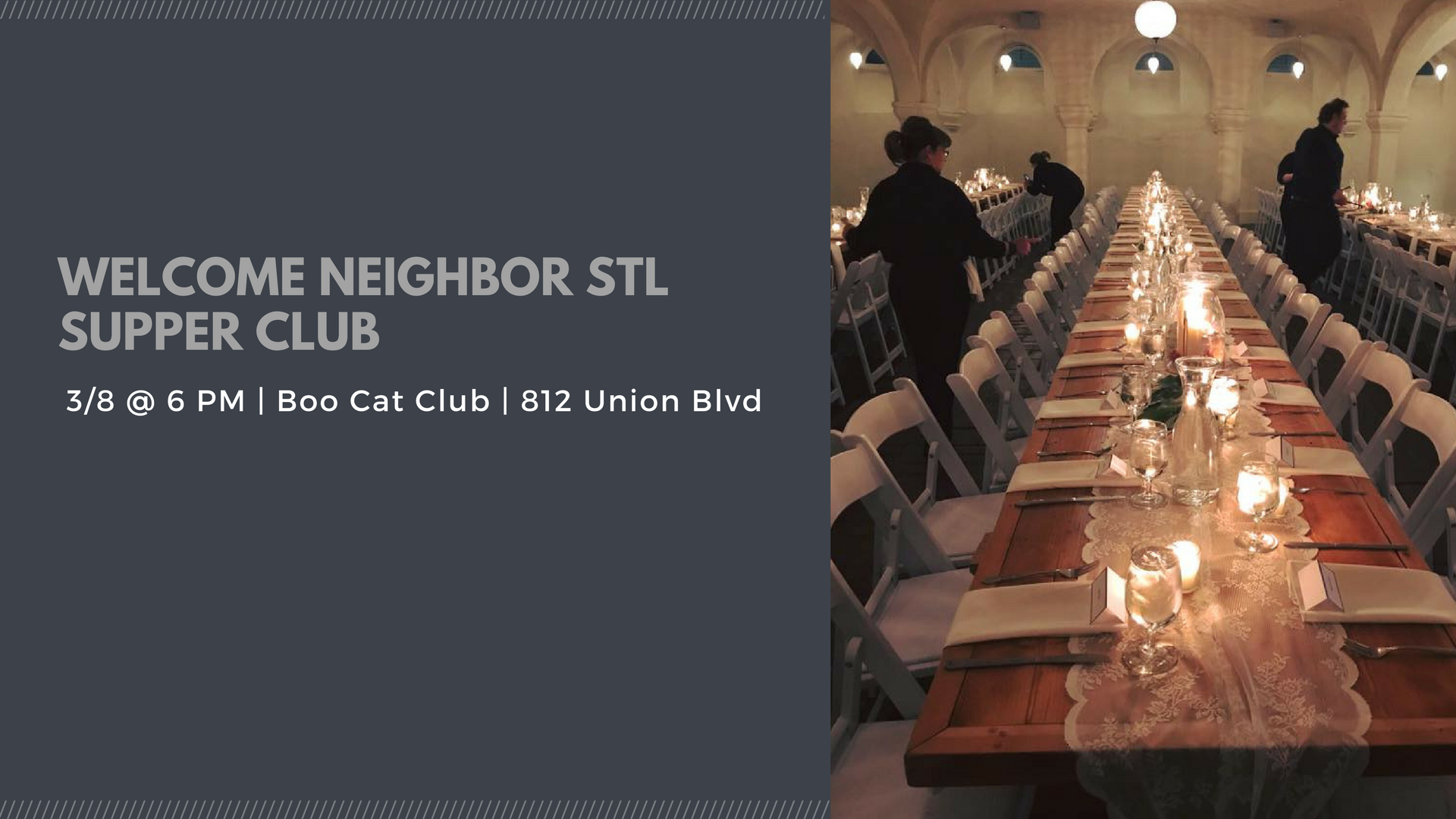 Time

(Thursday) 6:00 pm - 9:00 pm CST
Location

Boo Cat Club

812 Union Blvd
Event Details

Welcome Neighbor STL invites you for a fantastic evening of food, friends, and fundraising. This supper club event will be hosted by Pat and Carol Schuchard at the Boo Cat Club on March 8th. Join us from 6-9 PM at 812 Union Blvd, St. Louis, MO 63108 as a group of Syrian refugee women will prepare an amazing spread of Mediterranean appetizers, entrees, and desserts for all to enjoy.

Sign up at http://www.signupgenius.com/go/508084da5ad2ea4f49-welcome13

This dinner presents an opportunity for our refugee friends, who have been defined for too long as victims, to share knowledge, skills, and culture with their new American neighbors. Supper club events allow refugees to create and build relationships with Americans to set them on a path of greater independence and confidence in their new lives in the United States.

Enjoy the food, conversation and making friends with neighbors old and new. From cultural exchange to just plain fun, look forward to a great evening. Come join us!

Menu for March 8, 2018 – Enjoy Traditional Syrian Cuisine
(Hummus) is a delicious appetizer made of chickpeas, garlic, lemon, tahini, and olive oil. Served with pita.
(Tabouleh) is a salad made with fresh vegetables such as parsley, lettuce, and tomato.
(Fattoush) fresh vegetables such as tomato, cucumber, parsley and lettuce with fried bread and apple cider vinegar.
(Kubba) is s a deep fried buglar with beef, nuts and a little onion.
(Shawarma) is chicken, garlic cream, pickles, wrapped in pita bread.
(Baklava) is a rich, sweet dessert pastry made of layers of filo filled with chopped walnuts and held together with syrup.
Suggested donation is $75 per person. Questions? Contact Jessica Bueler at [email protected]
Are you interested in hosting a Welcome Neighbor STL event in your home or business? Please let us know. To learn more about Welcome Neighbor STL, please visit our Website, Facebook, Twitter, or Instagram.
Sign up at http://www.signupgenius.com/go/508084da5ad2ea4f49-welcome13